The origin story of Mr. Quinlan - A new comic series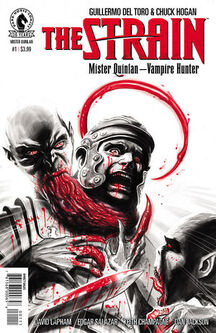 A vampiric abomination seeks to destroy the monster that sired him. Born as a mistake of a powerful vampire known as the Master and raised in the brutal gladiatorial arenas of ancient Rome, Mr. Quinlan must survive long enough to carry out his mission when his target begins hunting him.
CREATORS:
Writer: David Lapham
Penciller: Edgar Salazar
Inker: Keith Champagne
Colorist: Dan Jackson
Cover Artist: Juan Ferreyra
Genre: Horror, Action/Adventure
Publication Date: September 14, 2016 - ongoing series 
Ad blocker interference detected!
Wikia is a free-to-use site that makes money from advertising. We have a modified experience for viewers using ad blockers

Wikia is not accessible if you've made further modifications. Remove the custom ad blocker rule(s) and the page will load as expected.