On the second day of darkness, they rounded them up. The best and the brightest: all those in power, the wealthy, the influential.  Lawmakers and CEOs, tycoons and intellectuals, rebels and figures of great popular esteem. None were turned; all were slain, destroyed. Their execution was swift, public, and brutal.
Save for a few experts from each discipline, all leaders were eliminated. Out they marched, the damned, from the River House, the Dakota, the Beresford, and their ilk. They were all apprehended and herded into major metropolitan gathering places worldwide, such as the National Mall in Washington, DC, Nanjing Road in Shanghai, Moscow's Red Square, Cape Town Stadium, and Central Park in New York City. There, in a horrific pageant of carnage, they were disposed of.
It was said that over one thousand strigoi rampaged down Lexington and raided every building surrounding Gramercy Park. Offerings of money or favor fell on deaf ears. Soft, manicured hands implored and begged. Their bodies twitched—hanging from lampposts all along Madison Avenue. In Times Square, twenty-foot-high funeral pyres burned tanned, pampered flesh. Smelling much like barbecue, the elite of Manhattan illuminated the empty streets, closed shops—EVERYTHING MUST GO—and silent LED mega screens.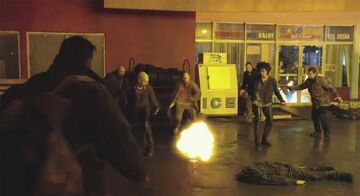 The Master had apparently calculated the right number, the exact balance, of vampires needed to establish dominance without overburdening the blood supply; its approach was methodological and indeed mathematical. The elderly and infirm were also collected and eliminated. It was a purge and a putsch. Roughly one-third of the human population was exterminated over that seventy-two-hour period, which had since become known as, collectively, "Night Zero." - Extract from the diary of Ephraim Goodweather (Night Eternal)
The United Kingdom remained practically vampire-free due to its rapid response to the initial Outbreak. The isolation of the Isles was achieved by demolishing the Chunnel to the mainland and vigorously eradicating any vampire throughout the country. This distinction pays homage to Great Britain as the land to which Abraham Van Helsing (namesake of Setrakian) arrived to expel the titular Dracula of Bram Stoker's renowned classic. However, exempting the United Kingdom leaves a glaring plot hole concerning why Fet didn't obtain the weapon he sought from there.