"Intruders" is the eighth episode of Season 2 of The Strain. It first aired on August 30, 2015.
Kelly is taught how to hide her true form through the use of cosmetics and prosthetics, much like Eichhorst.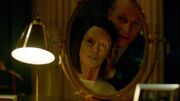 Eph, accompanied by Zach, visits a black market dealer, Jimmy Wu, to purchase a sniper rifle that Eph wants to assassinate Palmer with. However, when they arrive, they find that Jimmy has been shot, and is in need of immediate medical attention. Wu's daughter requests that Eph perform surgery on him in order to save his life, giving him everything he needs to do so. In return, Eph is given a sniper rifle.
Eph reveals to Nora what happened during his stay in Washington D.C.
Dutch helps Nikki find a safe place to stay, as she was uncomfortable with the arrangements in the hideout.
Cardinal McNamara has included both Palmer and Setrakian in the bid for the Occido Lumen. When Setrakian realizes that Palmer is one of the contestants, he decides to try stealing the Lumen, so Palmer can't purchase it. However, Eichhorst had the same idea, and reaches the Cardinal before Setrakian. Eichhorst torments the Cardinal, trying to find the owner of the Lumen. When the Cardinal refuses, saying that he had given an oath to God, Eichhorst taunts and infects him. He tells the Cardinal that once he is turned, the Master will be able to read his mind, thus discovering the location of the Lumen. Eichhorst is driven off when Fet and Setrakian arrive. The Cardinal tells Setrakian that the owner of the Lumen is Rudyard Fonescu, the only survivor of the slaughter at the Austrian nunnery in 1966. To prevent the Cardinal from turning, Setrakian kills him.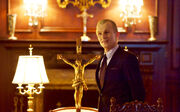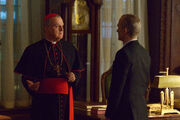 Coco and Palmer run into a quarrel over Palmer's secrecy in regards to Eichhorst.
Angel and Gus are on a supply run for the restaurant owned by the Guptas', but when they arrive at the Guptas' warehouse, they find that it has been destroyed. After this discovery, they try to persuade the Guptas' to leave NYC, abandoning their restaurant. When Gus is alone with Aanya, speaking with her and sharing intimacy, Quinlan interrupts, waiting outside the restaurant for Gus. He explains to Gus that remaining with Aanya would only make her a target for the Master, placing her in too much danger. He then enlists Gus' help in defeating the Master.
Kelly, hidden beneath cosmetics and prosthetics, breaches Red Hook's quarantine with the Feelers, tracking down Fet's hideout where Zach is residing. Kelly manages to persuade Zach to unlock the door, allowing her entrance into the hideout. When she is let in, Eph and Nora kill the Feelers, driving Kelly away. However, during the fight, Kelly's cosmetics were damaged, showing her true, Strigoi form to Zach.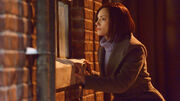 Eldritch Palmer: By the way, I haven't seen your man Bolivar lately. I hope nothing's happened to him.
Thomas Eichhorst: Bolivar has a new assignment.
Eldritch Palmer: Really? Doing what?
Thomas Eichhorst: The Master has chosen him as his new vessel.
Eldritch Palmer: Well! Imagine that! I always assumed he would pick someone with a distinguished record of loyal service like you. Instead, he selects a washed-up pop star? It boggles the mind.
Thomas Eichhorst: A narrow mind is easily boggled.
Eldritch Palmer: Well, it's not for us to question. The Master does or does not. In this case he did, but not with you.
---
Vasily Fet: Rob a cardinal?
Abraham Setrakian: I prefer to think of it as recovering a stolen artifact, but yes, we're going to rob the son of a bitch.
---
Augustin "Gus" Elizalde: I don't get it, man. Why? Why me? Why me?
Mr. Quinlan: That is a question I learned to stop asking myself many centuries ago.
References