"Identity" is the sixth episode of   Season 2 of The Strain. It first aired on August 16, 2015.
During Eph's time in Washington D.C., he discovers that the Federal government is falling apart, as Congress debates and prepares to impeach the president for his lack of a response in stopping the viral outbreak. Eph is introduced by Rob Bradley to a contact in the National Guard, who says that he will help. Eph is also introudced to Leigh Thomas, a representative for the pharmaceutical company, Kemerall. Kemerall is convinced to consider the possibility of mass-producing Eph and Nora's Strigoi bio-weapon. Leigh and Eph are seen celebrating later, and they stay the night together.
Fitzwilliam divulges Palmer's plans to Setrakian and Fet.
The anonymous Strigoi seen at the end of the previous episode contacts the Ancients, criticizing them on their failure to destroy the Master from the start. He explains that for his own, personal reasons, he will agree to help in the hunt to find and destroy the Master.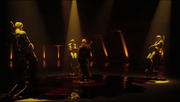 Aanya is taken on a food delivery, accompanied by Angel and Gus. During the run, they are attacked by Strigoi, and Gus is assisted in the fight by Angel.
Kelly tracks Zach, and she and the Feelers ambush Nora and Zach. Nora and Zach use a church as protection, keeping from Kelly for a short time, until Setrakian and Fet arrive, along with Fitzwilliam. Kelly escapes, but the Feelers are killed after one manages to infect Fitzwilliam. To prevent him from turning, Setrakian kills him.
Kemerall is considering the bio-weapon and is reviewing it for mass-production. Leigh takes Eph to Rob's house to tell him the good news. When they arrive, they discover that he is dead, finding out that an assassin from Stoneheart was sent to target Eph. The assassin kills Leigh, leaving Eph wounded. Eph manages to shoot him before getting away.
Meanwhile, Eichhorst expects the Master to use him for the transferrance, but is dismayed and surprised when the Master, instead, chooses Bolivar as the host. Eichhorst then pledges his fealty to the Master's new form.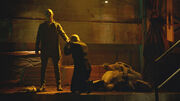 Angel: Where'd you learn those manners? Same place you got your tattoos?
Augustin "Gus" Elizalde: Okay, I get it, man. I thought I knew you, so you want to give me a hard time. So here it is. I went to prison. I was a thief. I wanted to be a fighter, but I couldn't make a living at it. So I broke my mother's heart, and I did a bid upstate. Now I'm nothing.
Mr. Quinlan: [to the Ancients] Pitiful, this city of New York. I expected Constantinople, Baghdad before the Mongols. Rome. Oh. Those were cities. This is a factory. A machine. I can see why he started here. You indulged him. You looked the other way for too long. Perhaps you're growing complacent. You should have stopped him 70 years ago, if not seven centuries ago. I get no pleasure from your anxiety. I trained Vaun and the others to be better; they failed us. I'm here now. I will stop him. But for my own reasons. I sensed him when he was injured. I need to know who got close enough to hurt him. And I need human hunters who can work during the day. That is, if you have any left.
Eldritch Palmer: I need to know that our plan is not in jeopardy before I proceed. And that he is able to uphold his side of the bargain.
Thomas Eichhorst: Let me assure you -
Eldritch Palmer: Your assurance is not enough! I assure you, I didn't become one of the wealthiest men in the world by being played for a fool. Either he is ignoring me or avoiding me. Tell him he does so at his peril.
Thomas Eichhorst: For your sake, I shall tell him no such thing.
References
Ad blocker interference detected!
Wikia is a free-to-use site that makes money from advertising. We have a modified experience for viewers using ad blockers

Wikia is not accessible if you've made further modifications. Remove the custom ad blocker rule(s) and the page will load as expected.