"By Any Means"  is the second episode of Season 2 of The Strain. It first aired on July 19, 2015 .
The Master requires a new host, as his current body is dying due to damage from prolonged sun exposure during his escape from Setrakian. Eichhorst and Bolivar both prepare for the Master's transfer to a new host.
Eph and Nora manage to convince the elderly couple to undergo their bio-weapon experiment as test subjects, keeping quiet on what it would mean they'd have to go through. Eph and Nora manage to isolate a microbe that is capable of killing Strigoi] brain tissue. They then begin to work on the test subjects.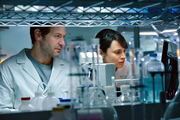 Dutch and Fet grow closer to one another when they free a neighborhood from the presence of Strigoi.
Meanwhile, Councilwoman Justine, Mayor Lyle, and several other city officials meet together on the topic of the Strigoi outbreak. After receiving little to no helpful responses from the others at the meeting, Justine decides she should handle the matter, vowing to do whatever needs to be done.
Setrakian is absorbed in notes and books, searching for any clues that could help in their fight against the Master. He stumbles across a clue that could help destroy the Master when he finds a copied page from an ancient, unique tome called the Occido Lumen. Setrakian believes it possible that Palmer has the book, and so confronts him during the speech at his newly opened food distribution center. After confirming that Palmer, in fact, does not possess the book, Setrakian and Fet escape.
During a flashback to 1965, Vienna, Setrakian and Palmer are shown to be introduced to one another for the first time. Palmer brings up the topic of Sardu's sword, which was previously thought to have been a myth. Setrakian tracks the sword to an antique store. The store is owned by former Nazi doctor, Werner_Dremerhaven. Dremerhaven panics, refusing to let the sword go, and so immediately bolts away from Setrakian. Setrakian chases him down and Dremerhaven, at one point, drops the sword when he trips and falls. Dremerhaven escapes, but Setrakian now possesses Sardu's sword cane. Not long after, Dremerhaven is met by Eichhorst, an aquaintance of his during WWII. Eichhorst approaches Dremerhaven with the proposition of joining the Master's forces. Dremerhaven states that he is tired of running, and wishes to serve the way they did during the Third Reich. Eichhorst then turns him. In another scene from the flashback, Palmer approaches Setrakian, attempting to sway him into helping him search for the Lumen in exchange for a grant, so that Setrakian could go into a career as a professor.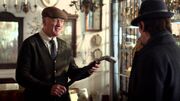 Kelly is seen finding things that belonged to Zach, handing them to the Feelers so that they can better pick up his scent in their hunt for him.
Vasily Fet: Professor, I was wondering, what do you hope to find in these books?
Abraham Setrakian: Something I overlooked. Of all the evils a man faces, growing old is the one I cannot do anything about. When I was young, I could hold all this in my head, and now it seems to be slipping away from me.
---
Eldritch Palmer: Abraham. Look at you. Withered by age and failure, yet your blind optimism carries you on. Don't tell me you still cling to your belief in the Supreme Being?
Abraham Setrakian: You should fear His wrath.
Eldritch Palmer: Your "Being" doesn't exist. Realized that when I was 10 years old. Prayed for Him to heal me. He never answered.
Abraham Setrakian: Yes, He did. The answer was no.
References
Ad blocker interference detected!
Wikia is a free-to-use site that makes money from advertising. We have a modified experience for viewers using ad blockers

Wikia is not accessible if you've made further modifications. Remove the custom ad blocker rule(s) and the page will load as expected.